Connect to Internet with the Affordable Connectivity Program
The Federal government is ending the Emergency Broadband Benefit Program and will complete its transition to the new Affordable Connectivity Program (ACP) on February 28, 2022.  The ACP  is now accepting new applicants.  Most EBBP households will automatically transition to the new ACP Program without taking any further action.  Those who do not automatically qualify for ACP based on their original method of qualification for EBBP will be notified and given the opportunity to reapply using an alternative qualifying method.  More information can be found at acpbenefit.org/
What is ACP?
The Affordable Connectivity Program (ACP) is a federal government benefit program operated by the Federal Communications Commission that replaces the Emergency Broadband Benefit Program (EBBP)  to help low-income households pay for internet services.  Qualifying Alaska households  may receive up to a $75 per month discount on an internet base plan fee for UUI residential internet service.  The ACP is non-transferable and limited to one monthly service discount per household. 
UUI recognizes that having access to reliable internet has never been more important.  The Affordable Connectivity Program (ACP) offers long-term entry-level free internet to qualifying households by providing up to a $75 monthly credit.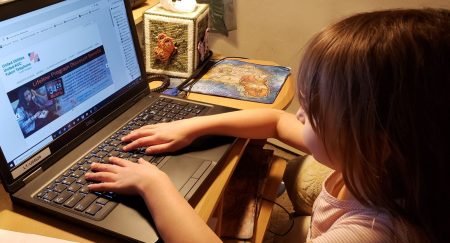 How It Works:
Check eligibility and get qualified

Contact UUI to choose the internet plan that is right for you

Get a credit up to $75 each month

Already a UUI Internet Customer?  This credit is available for both current and new internet customers, once qualified. 
When will ACP be Available?
The ACP was available to new subscribers on 12/31/2021.  EBBP customers that qualified transitioned to ACP on 2/28/2022.  All EBBP subscribers that were required to re-qualify were sent notification letters by USAC.  These subscribers have until the deadline listed on the letter to provide new qualification proof to be eligible to transition to ACP.

Who is Eligible?
Most EBBP participants will automatically transition to the new ACP without any further action on the household's part.  Households that qualified under criteria that doesn't meet the new ACP requirements will have a one-time opportunity to provide qualifying ACP proof.  If the new proof is accepted, the household will transition to ACP without further issue.  Any subscriber not transitioned can apply as a new customer to ACP.  All of Alaska is considered Tribal Lands for ACP; therefore, if you qualify, you will receive the same benefit amount as you did with EBBP.
Qualify through a government program:
Supplemental Nutrition Assistance Program (SNAP) (Food Stamps)

Supplemental Security Income (SSI)

Medicaid

Federal Public Housing Assistance (FPHA)

Veterans Pension or Survivors Benefit Program

Federal Pell Grant for the current award year

Special Supplemental Nutrition Program for Women, Infants and Children (WIC)

Free and Reduced Price School Lunch or Breakfast Program, or Enrollment in a Community Eligibility Provision School

Bureau of Indian Affairs (BIA) General Assistance

Tribal Temporary Assistance for Needy Families (Tribal TANF)

Food Distribution Program on Indian Reservations (FDPIR)

Tribal Head Start (only households that meet the income qualifying standard)

Participates in the Lifeline program
Qualify through your income (only if you do not qualify through one of the government programs listed above):
>Household Income at or below 200% of the current official Federal Poverty Income Guidelines for Alaska
Qualifying Income Levels as of January 2022

| | | | |
| --- | --- | --- | --- |
| Household Size | Annual Income | Household Size | Annual Income |
| 1 | $33,980 | 5 | $81,180 |
| 2 | $45,780 | 6 | $92,980 |
| 3 | $57,580 | 7 | $104,780 |
| 4 | $69,380 | 8 | $116,580 |
For each additional person, add $11,800 to the annual combined house household income
What do you need to do?
If you are notified by the federal government of disqualification to transition to the ACP, please reapply using a qualifying program or expanded income qualifications available for ACP.  To prevent disruption to service, this must be done prior to the de-enrollment date provided to you by USAC.

For the few customers whose EBBP benefit cannot be transitioned to ACP, you may continue to receive the EBBP subsidy through February 28 2022.  After this date, you must accept one of the full-price service plans UUI currently offers or terminate service with UUI.  All EBBP and ACP customers have the opportunity to change their internet plan at any time of your choosing.

STEP 1:  GET PRE-QUALIFIED
Before you contact UUI and can receive benefits, you must pre-qualify through the Affordable Connectivity Program.  Get started with the qualification process by visiting https://acpbenefit.org/how-to-apply/
If you are already a Lifeline subscriber, you qualify!  Just call UUI Customer Care to enroll in the EBB program.

STEP 2:  SIGN UP
Once you've pre-qualified with the National Verifier, you can sign up with us to receive benefits by calling UUI Customer Care at 1-800-478-2020.
QUESTIONS?  Call UUI Customer Care at 1-800-478-2020
The Affordable Connectivity Program (ACP) is a federal program to reduce internet bills.  Customers must contact us if they no longer meet the requirements of the program.  If you de-enroll from the program, or if the program ends, or if you transfer the benefit to another provider, or if a household is no longer eligible, subscribers will then be subject to UUI's general rates, terms, and conditions for the service in the event they continue to subscribe to regular UUI internet services.  Qualifying customers are entitled to free entry level internet, or a monthly credit up to $75, which can be applied to charges for the base plan fees for UUI residential internet service.  If the base plan fees are less than $75, customer will receive a credit in the amount of the base plan fee only.  If the base plan fees are more than $75, customer will be responsible for paying any charges/fees in excess of $75.  Credit does not apply to usage charges, installation charges, equipment charges, or any other charges.  The customer's ACP supported service may be disconnected after 90 consecutive days of non-payment.  Customers must independently apply and qualify for ACP Service through the Affordable Connectivity Program before receiving ACP credits from UUI.  A household may obtain ACP supported broadband service from any participating provider of their choosing.

CONSUMER COMPLAINTS?  ACP customers may file complaints with the FCC
Consumers have the right to make a complaint with the FCC about their ACP-supported service.  Consumer complaints may be filed with the FCC's Consumer Complaint Center by calling 1-888-225-5322 or by going to consumercomplaints.fcc.gov.
ACP Paper Application Instructions