Wireline Local Phone Service, including Lifeline, is Available from
United Utilities, United-KUC and Yukon Telephone

Our companies are designated by the Regulatory Commission of Alaska as an Eligible Telecommunications Carrier to provide local exchange telephone service, including Lifeline, throughout our service areas.  Qualifying low-income residential customers may be eligible for a Lifeline rate of $1.00/month.  Local service rates, available on our Telephone Service page, include the required "supported services" defined in state regulation at 3 AAC 53.499(13).  Prices do not include taxes, fees and surcharges.  For further information about rates, coverage and service availability, please click on the link above or call Customer Service at 1-800-478-2020.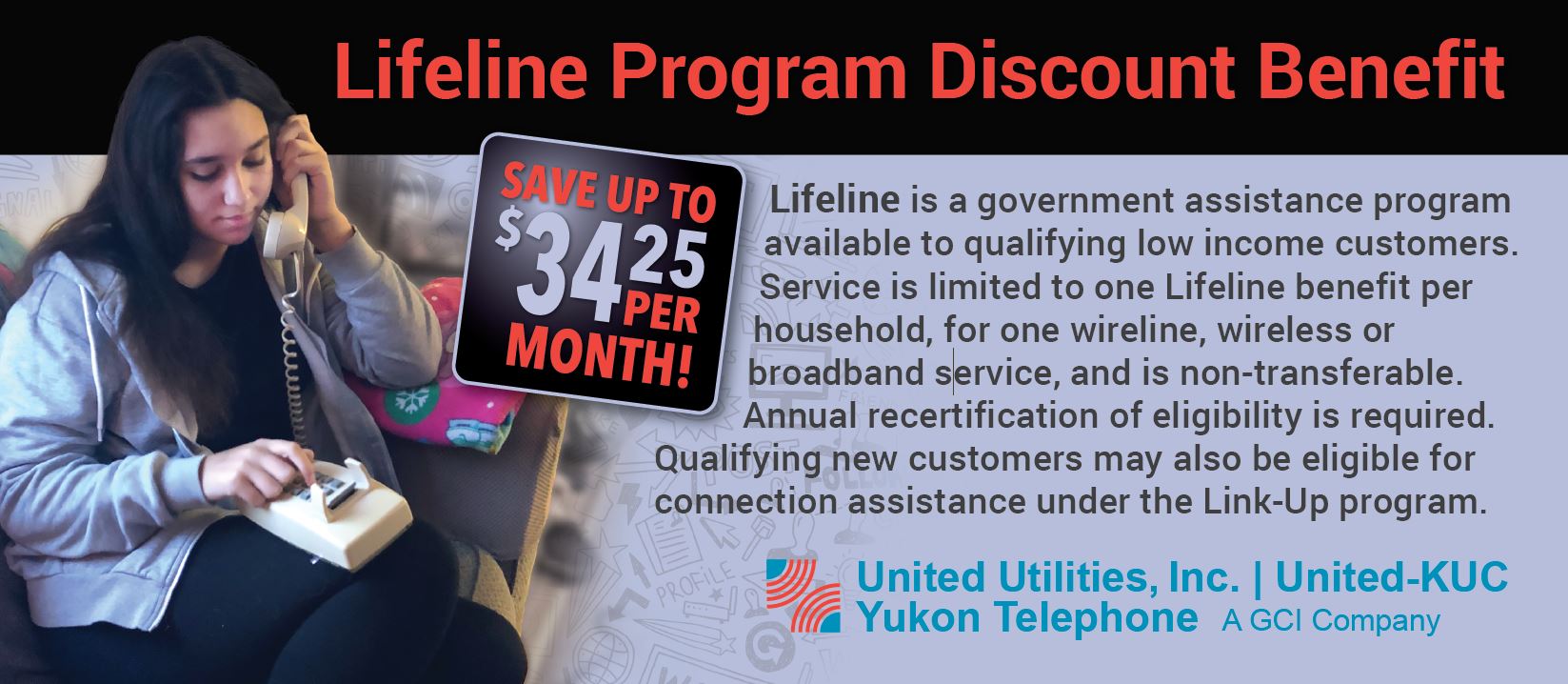 What is Lifeline?
1.    Lifeline is a government assistance program for low income consumers, which offers discounted residential telephone or internet service to eligible consumers. New customers may also qualify for connection assis­tance and a deferred installation payment plan. You must participate in one of the programs listed below, and documentation of participation is required for enrollment. Lifeline is a federal benefit and willfully making false statements in order to obtain Lifeline service can result in fines, imprisonment, de-enrollment or being barred from the program.
2.    Lifeline service is limited to one Lifeline benefit per household, for ONE wireline, wireless or internet service. "Household" is defined, for purposes of the Lifeline Program, as "any individual or group of individuals who live together at the same address and share income and expenses". A "Household" is not permitted to receive Lifeline benefits from multiple providers. Violation of the one-per-household limitation constitutes a violation of the FCC's rules and will result in the subscriber's de-enrollment from the Lifeline Program.
3.    Lifeline service is non-transferrable. Customer is required to notify us if they are no longer eligible for any reason. Customer is required to notify us if their address is temporary, or if they move. Customer is required to recertify their eligibility every year.
4.    Lifeline service on your home "local" phone, comes with unlimited local phone minutes. Toll calls are an additional charge and are dependent upon the long distance provider and package chosen by the subscriber.  Lifeline Toll Blocking is available upon request at no monthly charge.
5.    Lifeline service on Broadband internet is available to areas where UUI provides 10M/2M with 100,000 MB/100GB data or 15M/2M with 325 GB data.  The monthly Lifeline discount is $34.25.  For availability, click here:  Internet Plans by Location

How do I know if I am eligible?
You may be eligible for Lifeline if you are a residential subscriber, participate in one of these programs, and do not have another Lifeline service in your household.
Qualify through a government program:
Supplemental Nutrition Assistance Program (SNAP) (Food Stamps)

Supplemental Security Income (SSI)

Medicaid

Federal Public Housing Assistance (FPHA)

Veterans Pension or Survivors Benefit Program

Bureau of Indian Affairs (BIA) General Assistance

Tribal Temporary Assistance for Needy Families (Tribal TANF)

Food Distribution Program on Indian Reservations (FDPIR)

Tribal Head Start (only households that meet the income qualifying standard)
Qualify through your income (only if you do not qualify through one of the government programs listed above):
Household Income at or below 135% of the current official Federal Poverty Income Guidelines for Alaska
Qualifying Income Levels as of January 2021

| | | | |
| --- | --- | --- | --- |
| Household Size | Annual Income | Household Size | Annual Income |
| 1 | $21,722 | 5 | $52,394 |
| 2 | $29,390 | 6 | $60,062 |
| 3 | $37,058 | 7 | $67,730 |
| 4 | $44,726 | 8 | $75,398 |
For each additional person, add $7,668 to the annual combined house household income
Are there any restrictions?
Lifeline discounts apply toward ONE residential telephone or internet service in a household.  The service is non-transferable.  Only eligible consumers may enroll in the program, which is limited to one discount per household.  New customers may qualify for connection assistance and a deferred installation payment plan.
("Household" means "any individual or group of individuals who live together at the same address and share income and expenses as an economic unit"
How do I apply and what is required?
You can apply by mail or online

To apply by mail, see below to download the Lifeline Application or contact our Customer Care office at 1-800-478-2020 for a paper form. The Lifeline Application and the Household Worksheet  (if applicable) must be completed in full, signed and dated. New customers must provide photo identification and proof of program participation. Acceptable documentation for enrollment include: (1) official document demonstrating benefits from one of the above qualifying assistance programs; (2) federal tax returns, for income qualifying. For a complete list of acceptable documentation, see the Lifeline application or contact our office.
Lifeline applications (paper form) should be mailed directly to the Universal Service Administrative Company (USAC) Lifeline Support Center at:
USAC Lifeline Support Center, PO Box 7081, London, KY 40742
Please read the instructions on your Lifeline Application, answer every required question, initial the Agreements, and sign and date the form.  For your home address, please put the street number and name.  If you do not have a street number or name, please put a descriptive address and latitude/longitude.  Do not put your telephone NID/Demark number. You should also include the Household Worksheet (if you share an address/household with another Lifeline subscriber); a copy of your current State or Tribal ID; and copies of program/income documentation to support the box checked on your application (for example: Medicaid card or award letter, SNAP statement or award letter [not your SNAP card], prior year's tax return).  Documents must be current- within the last 12 months.  Please keep a copy of your application for your records.
The Lifeline Support Center will process your application and notify you of eligibility.  Upon approval, the consumer has 90 days to contact their service provider to request Lifeline service.
If you have questions about Lifeline, the Lifeline National Verifier, or if you want to check the status of a submitted application, please contact the Lifeline Support Center at 1-800-234-9473.
You may also contact UUI Customer Care at 1-800-478-2020 with questions about the process, but we can no longer review and process your Lifeline application.  Any Lifeline applications sent to UUI will be forwarded to the Lifeline Support Center for processing.
APPLY ONLINE WITH THE  LIFELINE NATIONAL VERIFIER: Consumers are now able to check eligibility and apply online for the Lifeline benefit using USAC's National Verifier.
Please visit the Universal Service Administrative Co (USAC) Lifeline Support page for additional information at LifelineSupport.org
Household Worksheet (if you share an address/household with another Lifeline subscriber, you MUST complete & return this form with your Lifeline Application)